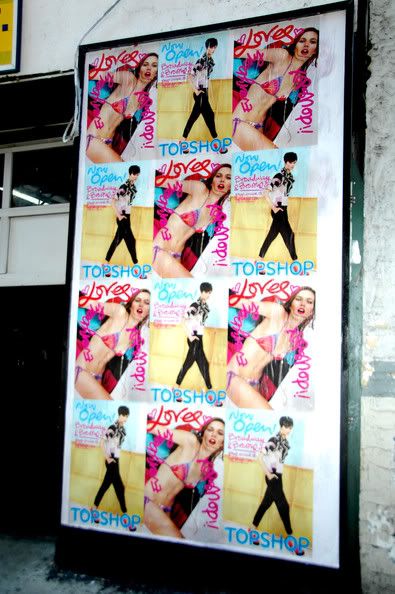 Last Thursday I made a trip up to NYC to help a friend with a design project, picking out tabletop decor and linens for an upcoming event. The visit was also an opportunity to do a bit of shopping in the city, which I haven't had a chance to do since before the new year. I love wandering around my favorite boutiques (Kirna Zabete, Intermix, Fragments, etc) and then eating lunch at the bar at Balthazar. But of course, my first and most important stop on this particular day was the brand-new
Topshop
in Soho, located at the corner of Broadway and Broome Streets.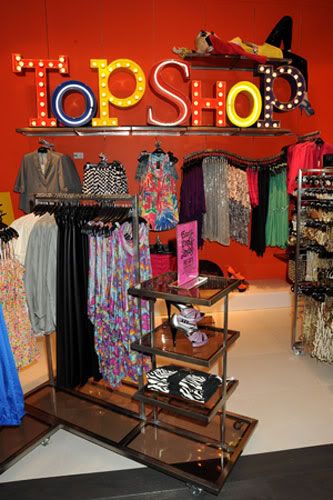 Without a doubt, Topshop is one of my favorite stores ever! On previous trips to the UK, I spent many hours perusing the racks at the insane flagship location in London's Oxford Circus and I always came away with some fabulous addition for my closet. This occasion was no different. While many items were tempting, including the entire
Kate Moss
collection (feather-appliqued leather jackets! slinky sequined dresses!), shoes were the order of the day. Hence these...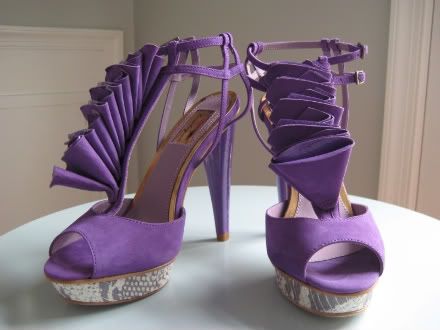 Yes, what you are seeing are purple suede and patent leather cha-cha heels with ruffled t-straps. They are just too good! I like my shoes the crazier the better, and these definitely fit the bill. I had scoped out the
website
in advance and was planning to go for
these
, but when I discovered that they had many shoes in the store that were not featured on the website my agenda changed. This pair is from Topshop's premium "Boutique" collection, which is their most fashion-forward line, though even their more standard options are pretty amazing. Do check it out when you have a chance, and if you are in New York, the store is a must-visit. I was lucky to be able to get in without waiting in line, though others have not been so lucky (sorry, Sober in the City!)...hopefully things will calm down soon so everyone can have a good time shopping there!