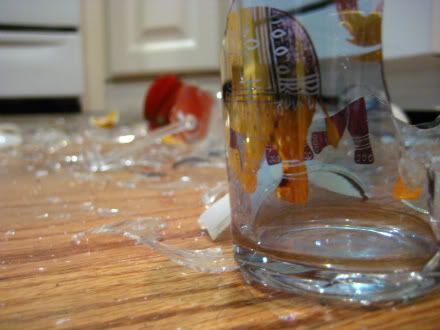 Did I mention the eventful weekend my fella and I just experienced? Let's just say, it started with our house getting broken into, and ended with a cabinet almost landing on my head. Everyone is fine though, including the kitties (who are
terrible
guard animals by the way), so no need to worry. But it was a lot to deal with in a two day time period.
The kitchen cabinet avalanche resulted in most of our drinking glasses being broken. The thing actually fell off the wall, no kidding. But thanks to the hard work of my sweetie, it has all been put back in place. The break-in on the other hand resulted in my laptop (among other items) being stolen, which is a tougher thing to get over. It's so frustrating to lose all of the inspiration files, photos, bookmarks, music, etc, that I spent so long putting together. I have a feeling it will take a while to reassemble these things, so if I am slow with the posting you will know why.
Thankfully though, our house was left in one piece and we are all safe and sound, and Kevin and I are immensely grateful for that. So there won't be any complaining from me. Now, maybe I will get dressed and head over to the sale room at
Anthropologie
for some new glassware.