Progress continues to be made in my patio area. After completing the tiered veggie garden, the focus has been on just making things pretty. My most recent mini project is this ladder plant stand. I like having something tall to create a bit of a focal point - and it's certainly nice having another spot to perch flower pots. The idea came from
this
post over at Bits & Pieces... as soon as I saw it the light bulb went on! Turns out we had an rickety, old ladder sitting in our basement just perfect for refurbishing. With a single, rough coat of leftover turquoise paint from my laundry room project to give it an appropriately weathered look, I had a fun, no-cost piece of garden decor! 
Here are a view more shots from around the garden...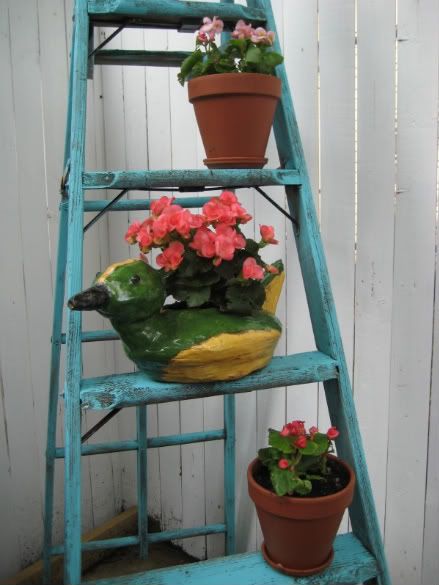 The duck planter was an 8th grade art project of my sweetie's... how cute is that?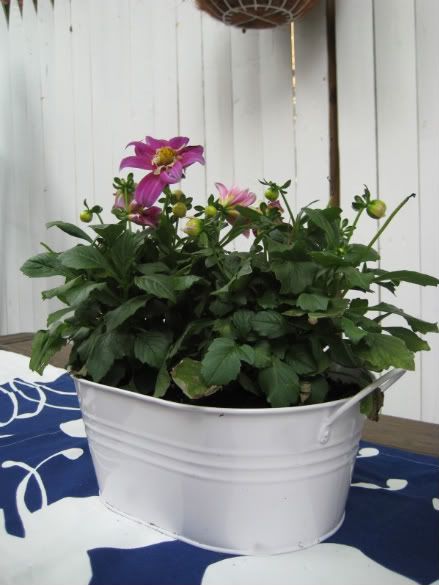 The miniature metal wash bucket is a $2 Target find from the bargain bin at the front of the store. So perfect as a planter! Now I can't wait for the dahlias to really start blooming...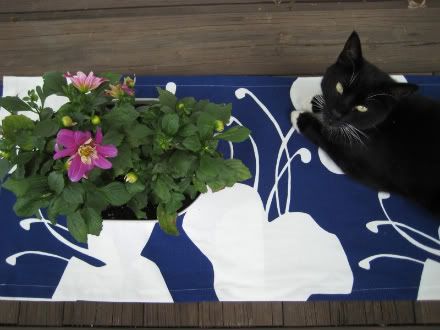 Here's my sneaky little Radius, posing as usual. And the table runner is only $3.99 at Ikea - you'll need two to make it across the table though...
A final addition to our upstairs deck - a graceful swan planter from the sale room at Anthro
!