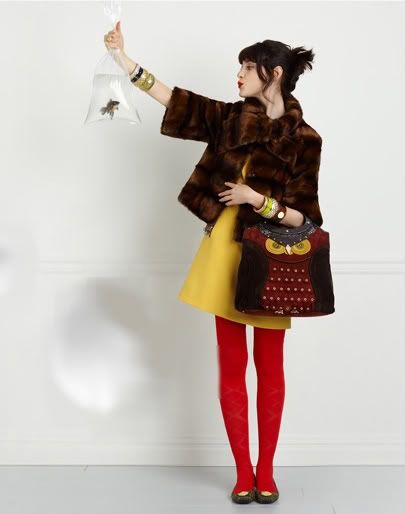 Ok, I want to make it very clear... I do not collect owls. For instance, you will not find a set of bookshelves in my house with a whimsical array of owl salt shakers, owl dolls, owl toothpick holders and so on. But having said all this, I do like owls very much! And this owl purse from
Kate Spade
makes me swoon with desire! It is so "luxe vintage/boho chic," but with a huge dose of playfulness. I absolutely
must
have it for fall, and I guarantee that it will be carried with everything in my wardrobe. The question is when it will be available on the website!! Hmm, maybe I will have to make a trip to NYC and stalk the Soho store. Anyway, here's Mister Owl again in all his glory...
P.S. Do you like the hippie fringe thing, but without the face staring at you all the time? How about this little
clutch
then, also from Ms. Spade...
Tres chic
, and it's on sale too!  A good compromise, don't you think?