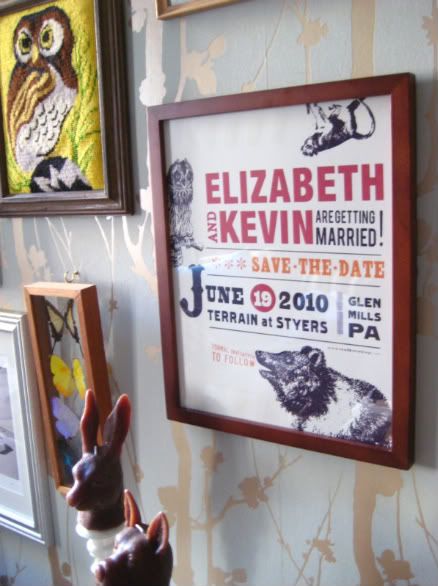 I've been waiting for the opportunity to share my wedding save-the-dates, and now that a copy is framed and hanging in my living room I figured it was the perfect time. Kevin's and my poster-style announcement was designed by Cheyenne over at
Loveleigh Invitations
and it includes the funny and ferocious animals that we both love, and the bright colors that I definitely love.  Cheyenne did an amazing job capturing our style, and they were made even more special as they were screenprinted by her very talented husband. 
We chose a really interesting 11" x 14" card stock-weight paper by
French Paper
, a subtly patterned version from their Mod-Tone line (the Mod-Tone ecru #4040), to print the posters on. I love the little bit of texture it gives the design. Oh, and here is how the posters looked when they were delivered...so cute!
Meanwhile, the mailing package was pretty fun (and labor-intensive) too! I chose craft paper mailing tubes and Cheyenne designed adorable labels which I was able to run through my laser printer. The twine and little tag finished it off...
It was such a fun project to work on and I'm super grateful to Loveleigh Invitations for making something so special for me and Kevin. And now, it's time to start on the actual invites! Wow, lots more to share this spring!