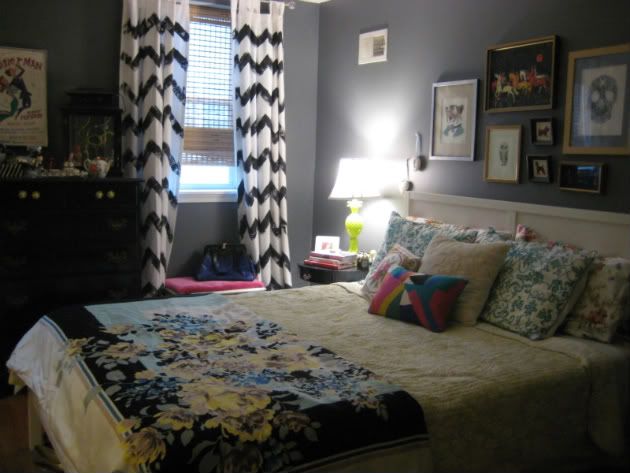 You know how it is when you look around a room and just think something is
missing
. I had been feeling that way about my master bedroom for a while. The walls were painted, I had new bed linens, a playful picture collage and a newly upholstered pink velvet bench under the window. There's color and pattern everywhere - why does it feel imcomplete? And then I looked at the windows. They were so plain! And that's when I decided that I needed bold pattern on the curtains to bring everything together. A black and white chevron print was my dream, but the idea of sourcing fabric and having full length drapes sewn seemed like way too much money and time. I wanted that burst of pattern right away! So off to Ikea, for two sets of the
Lenda
curtain in bleached cotton ($14.99 per pair!!) Another stop at Lowe's yielded a quart of semi-gloss acrylic black paint and one 4-inch trim roller. Back at home, I threw a drop cloth down on the living room floor, laid the first curtain panel on it (careful to smooth out all the wrinkles), and then started zig-zagging away. Several hours later, plus some drying time, and
voila!,
DIY chevron curtains! I like that the pattern looks rough and imperfect - that was part of the goal. Intentionally imperfect looks way better than something that tries to be perfect and fails, don't you think? So let me know what you think - did this project complete the room?
And in case your curious, here's my (much more glamorous!) inspiration:
I just need to upgrade to a fur throw, get rid of my old-fashioned tv (on which I watch Friday Night Lights dvds while I'm getting dressed, thank you very much), get a sparkly light fixture and a lucite chair, and generally add a dose of SPARKLE! I'm glad I still have projects to work on...
(Last image via Anne Coyle Interiors)