As you may have noticed, I haven't been blogging a lot the past couple months. What have I been up to...? 

Just a bit of living room redecorating! The big project has been the built-in bookcase, and my guy totally knocked it out of the park. For the past three years, I've been staring at this weird in-set space running along our main wall - a 9 ft x 7 ft area that made it really difficult for us to arrange furniture. Finally, after way too long, the idea came to us - BUILT-IN BOOKCASE!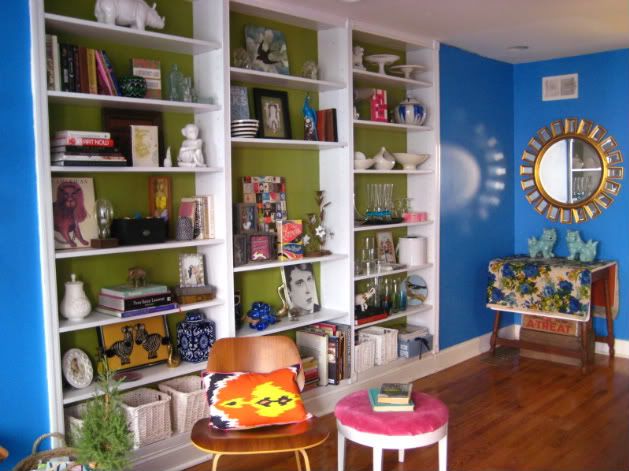 We are so happy with the way it turned out! The storage and display space the shelves provide make a huge difference in our small living area. I love that I can store books, display pretty things, and have a permanent spot for our barware and serving dishes. There have been other changes too, such as a MUCH-more-vibrant wall color and a "new" sofa. By new I mean "new to us" because it's a antique store find from the 70's (here's a close up of the
fabric
)...
A lot more needs to be done.... new pillows for the sofa, chairs for the small dining table, custom framing for the otomi fabric, an area rug, maybe a comfy chair - but for the time being I'm happy with the direction of things. What do you think? Any suggestions for what should come next?