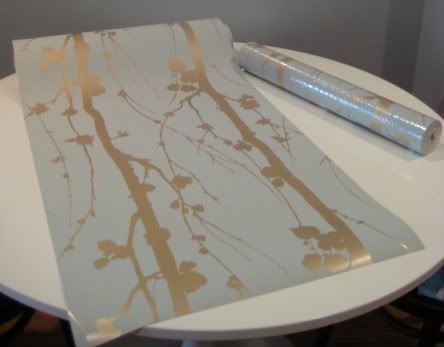 It was a lovely Valentine's/Presidents Day weekend! While out Orla Kiely hunting at Target yesterday, I came across a wonderful wallpaper bargain. This aqua and gold print is from their 
Home Design Event 
which recently concluded.  At 75% off, I got it for $7.49 a roll! I decided to use it on a small wall section in my living room, so this morning I got down to business. Here's the wall before...
And here it is now...
Subtle, I know. But in person it has a lot more impact. I particularly like how the tree branches give the illusion of height in the room and how the metallic accents reflect light. Now I want to wallpaper the entire room with it! I might have to do a Target run tomorrow to see if I can find more...
And to those of you who favor earthier tones, I noticed many rolls of a plum version with cream and gold flowers. Very chic, and very cheap!