Like I mentioned yesterday, we finally hung the
chandelier
that I refurbished last month! I originally found it on Craigslist for $40 - it was brass and had white candle covers with fake dripping wax. Egads. But a coat of matte white spray paint brightened it up, and I created candle covers using
decorative paper
by
Snow & Graham
.
Making the candle covers was so easy! Simply purchase replacement cover tubes from a place like
this
(they cost around $1 each), cut your paper to size, brush adhesive onto the tube, and then place the paper carefully around the tube and smooth down. Easy as that! I think I might make a second set for my chandelier, so I can change things up from time to time.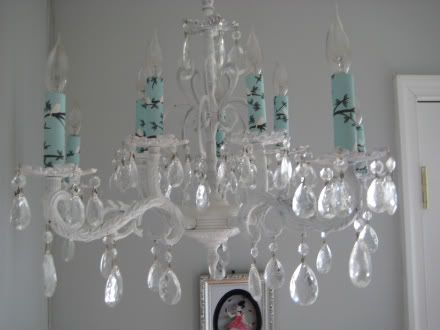 The chandelier is currently residing in our third floor hallway, next to the entrance to the deck. I like that it's in a slightly unexpected place, instead of over a table or counter. Once the rest of the space is fixed up (I'm repainting the walls and adding some new pictures), I'll share some more...