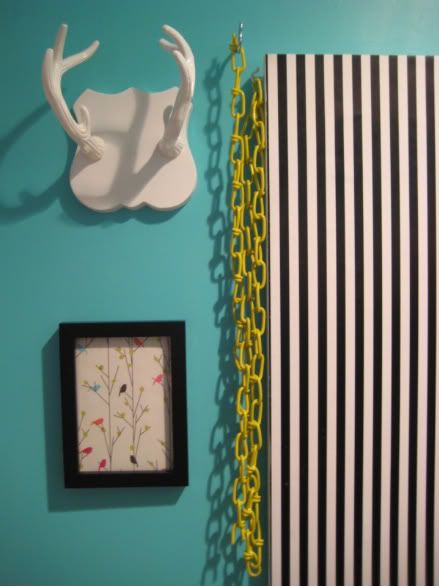 This was quite the productive weekend around my house. The new-old chandelier was hung, a ceiling fan was installed in Kevin's music room/office, and our teeny-tiny laundry room was FINALLY spruced up. After one to many times of looking at our
depressing laundry and tool space
, I decided to take action. The first step was a fresh coat of turquoise paint. I love how bright and cheerful it looks, and how the white appliances and shelves pop against the vivid walls. Below is a better shot of the setup of the room (please forgive the many shadows as well as the odd angles - it's a tiny space with a single overhead light which creates many photographic challenges)...
If you are wondering what the striped and chained item is on the wall, it's our solution for a folding table. Kevin simply took a pre-cut white melamine shelf (this one is from Lowe's and measures 16" x 36"), attached hinges and eye hooks, and used these plastic-coated metals chains to attach. The yellow chains are so glossy and playful, and such a great accent color to the blue walls. The stripes come from a piece of wrapping paper that is adhered to the back of the board with adhesive craft spray. Here it is descended from the wall...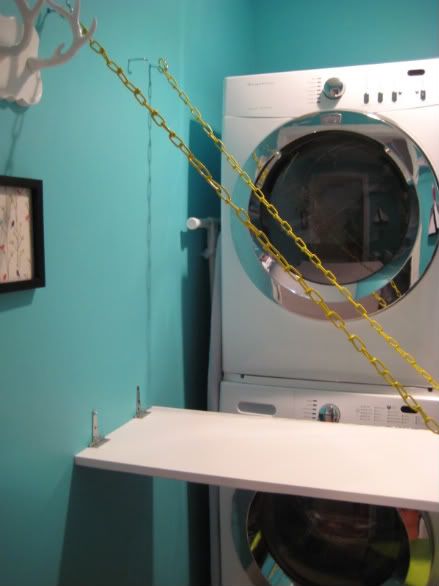 Now I can unload the dryer and place my freshly folded towels and sheets on this convenient work surface! As for the other side of the space, we have a set of wire shelves holding linens, cleaning products and tools. I've been looking for a place to hang my circus paint-by-numbers ever since we moved in. They have been with me since I moved to Philly 15 years ago, so I am glad they finally have a home in our new house.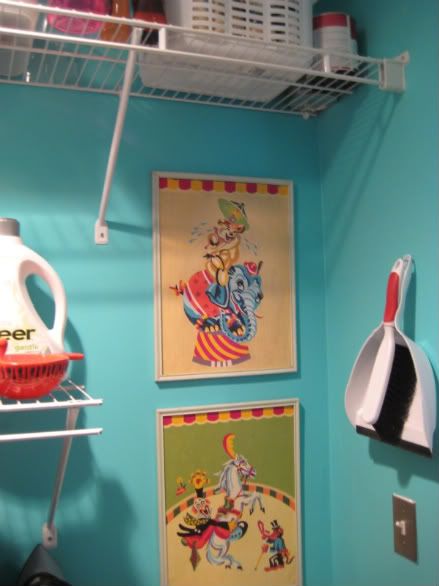 Oh, this little fella holds coins and bobby pins that I find in our pockets or at the bottom of the washing machine...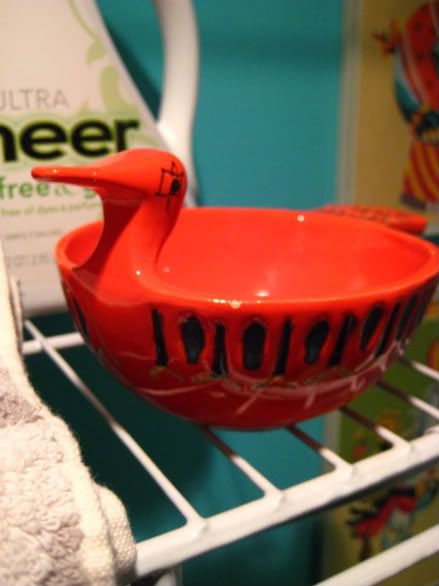 It feels so great to have a truly organized space that is fun to look at. And with these improvements, hopefully doing laundry won't be so much of a chore!
So, what did you do this weekend?
(P.S. The white antlers are from Urban Outfitters, the wall color is Valspar 5006-10A "Bayside," and the metal stool seat color is American Accents "Sour Apple" by Rustoleum)