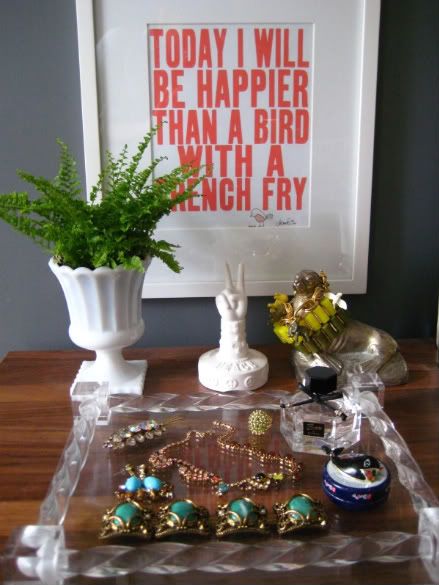 There is nothing better than a good bargain, and I've been finding lots of them recently at area flea markets, consignment stores, and outlets. Jewelry seems to be where my luck has been best of late. Take a gander at some of the beauties I've discovered! They are all laid out on a vintage lucite cosmetics tray that I bought for $5 at a recent flea market, and the sweet little fern is potted in a $1 footed milk glass urn from the Salvation Army....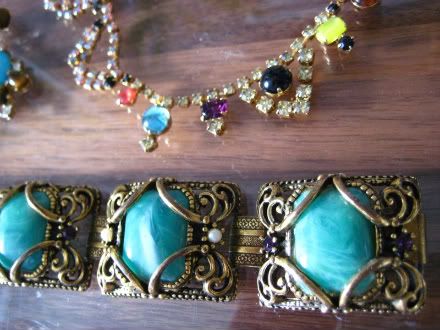 How amazing is this chunky, Art Nouveau-style bracelet? It was found this morning at a flea market for the ridiculous price of $4. It's a real statement piece, and will look great combined with a variety of studded bangles, or perhaps all by itself.
The little enamel and rhinestone whale is from
Buffalo Exchange
. If your city has one of their store locations, by all means make an effort to stop by on a regular basis. I often find wonderful vintage jewelry for mere pennies - this cutie was $2 and looks great pinned to the lapel of my khaki trench.
While not exactly an "under $10" find, this rhinestone stunner by
Tom Binns
was a remarkable bargain nonetheless. Thank you, as always, Last Call Neiman Marcus, for continuing to fulfill my fashion fantasies!
It really is amazing what beautiful things you can find if you know where to look for them. The next time you pass a flea market or thrift shop, make sure you scan the folding tables and cases for a sparking gem!
p.s. The Flora by Gucci perfume pictured on the tray is also a recent acquisition. If you have not had the opportunity to take a whiff of this yummy new fragrance, do so immediately. It is lush and decadent, yet perfect for summer.