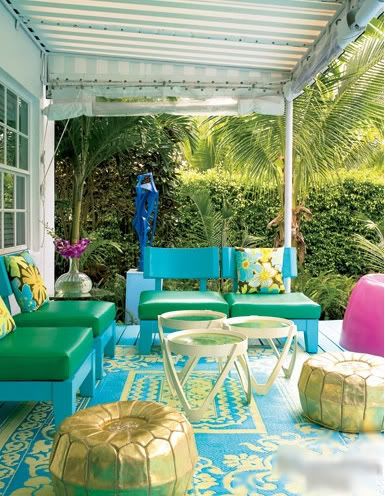 Yesterday I shared a dream of a "
Palm Beach goes to the Hamptons
" vacation house. But today, it gets even better. I leave you for the weekend with
this
amazing Miami home belonging to designer extraordinaire Doug Meyer. The man clearly loves turquoise, and so he is a man after my own heart....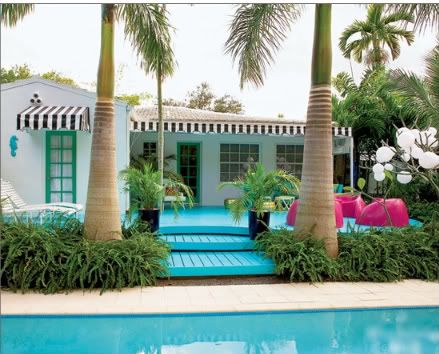 Wow, right!? This patio is the patio I would do tomorrow, if I had an actual wood deck and more than 10 square feet of space to work with. Seriously, I would break out a can of turquoise floor paint and go to town. And don't even get me started on the striped awnings! Meanwhile, the seating area on the lanai is pretty amazing too. Gold poufs? Yes, please!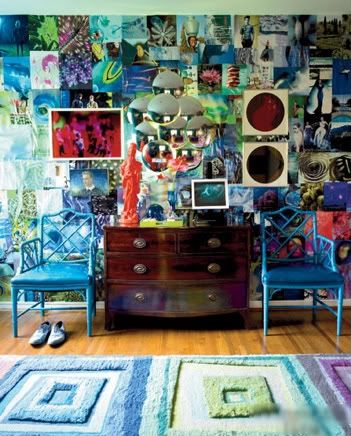 The color explosion just continues inside! A spectacular collage wall is the focal point of this bedroom, with a matching set of Chinese Chippendale chairs setting things off perfectly.
A cactus garden room divider adds to the playfulness in the living room....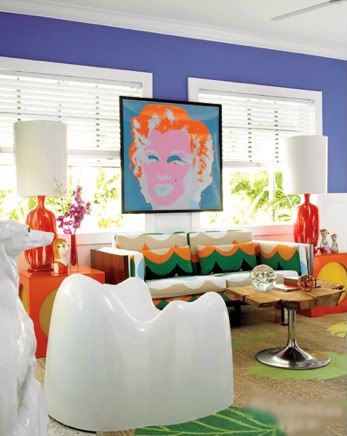 ... while this sitting area features a sofa upholstered in Ikea's "
Hedvig
" fabric ($7.99 per yard)... so fun, and totally budget-minded!
Hope this leaves you inspired as we head into the weekend! Personally, I can't stop thinking about making my own collage wall. Oh, and pricing out the cost of a striped awning for the front of my house. 
Have a happy and creative weekend, everyone!