Welcome to the party! (Oh, and scroll to the bottom of this post if you want to get to the really good stuff... the giveaway!)
Last Wednesday, I had the pleasure of hosting a cocktail party for my girlfriends in honor of the launch of
Gap's 1969 Premium Jeans
. As I mentioned in a
previous post
, I was approached by a marketing firm called
Brand About Town
to be a Brand Enthusiast for Gap. To this, obviously, I happily agreed! And I felt even better about taking on this role after trying on the jeans, because I can honestly say that they are great, combining excellent fit with a very reasonable price point. As most of you know my style is super girly, with lots of dresses and the like - but I can honestly say that these jeans have opened up a new world for me. The
Always Skinny
in particular are very sexy and fit like a glove, and provide the perfect base for a floaty top and some super high stilettos! 
Anyway, my main obligation as a BE was to host a party for my girlfriends. Brand About Town provided lots of goodies that allowed me to throw a top-notch soiree, the best of which was a ton of denim...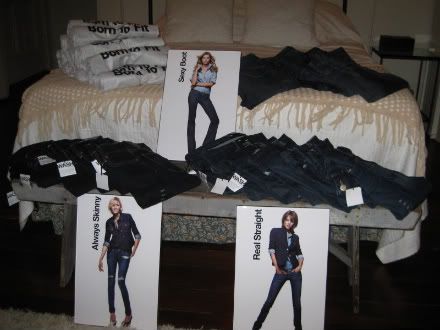 They sent me a full run of sizes in three of the most popular styles -
Always Skinny
,
Real Straight
, and
Sexy Boot
- and each girl was allowed to try them on and then pick out a pair to take home. What an awesome party favor! Tote bags were also provided so they could all carry their jeans home in style. Not to mention I was provided with a slew of Gap gift cards, in case any the girls were unable to find the perfect size or fit.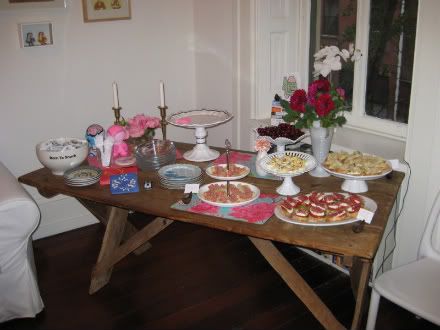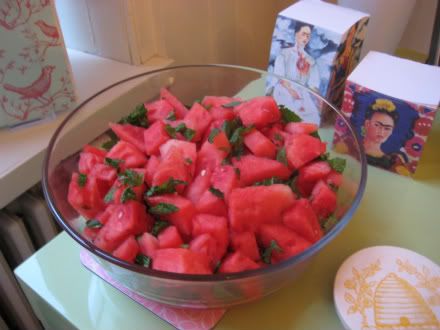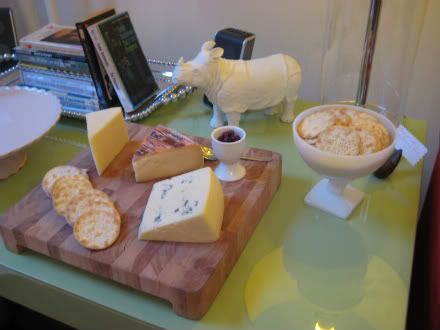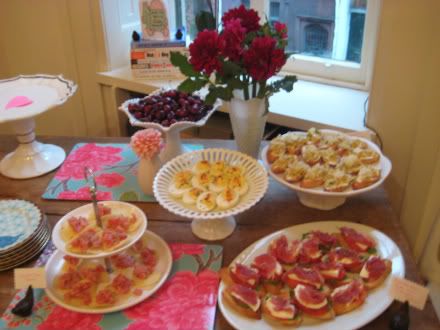 A party is no good without yummy food and drink, or without a lovely place to stage it. My dear friend Ingrid was kind enough to loan her fabulous brownstone apartment, which offered a large living room for mingling and a connected bedroom that served as a "shop"/dressing area. We created a cocktail buffet on her antique farm table and set it with our combined collection of white pedestal dishes. Some of the tasty treats included spicy ahi tuna tartare, crostini with prosciutto, mozzarella and basil, and watermelon salad with mint... all washed down with rose cava and raspberry lemonade. Oh, and I can't forget the amazing
chocolate and raspberry pavlova
, made by my sister-in-law to be!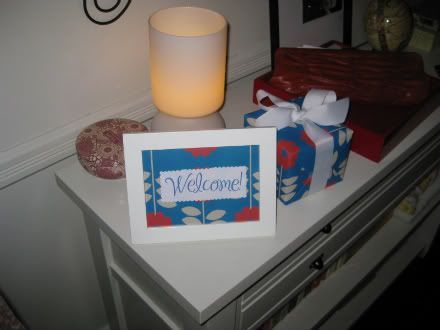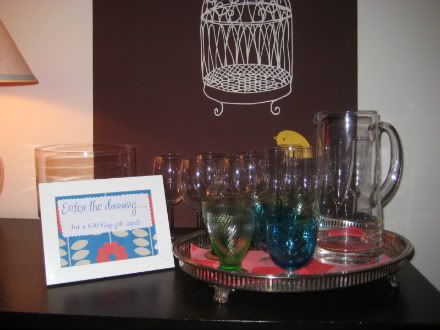 I also had a great time creating custom signage that reflected the theme of the event. Using super-inexpensive picture frames from Ikea, I filled each with a piece of cut-to-measure wrapping paper in a fun, slightly mod red and blue floral print. Then I printed my text using a color printer and cut it all out with a pair of scalloped scissors. Scalloped edges makes everything look cuter!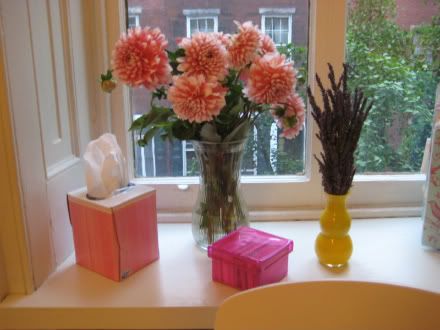 Some pretty pink dahlias...
It truly was a fantastic party, thanks to the fifteen lovely ladies who attended and to Ingrid who so graciously co-hosted. And of course to
Gap
for providing us all with an opportunity to try out and take home their awesome new line of jeans.
And now, it's your turn to try them out for yourselves! I'm offering a giveaway to my loyal readers:
5 lucky readers will receive a pair of Gap 1969 Premium jeans... and another one of you will receive a $50 Gap gift card! 
Simply comment on this post and tell me what you are looking forward to wearing your new denim with this fall, such as sexy heels or a boyfriend blazer or your favorite team's jersey.
I'll be selecting 6 names at random on Monday, August 24, so please get in your comments by then.
Good luck, everyone!
(P.S. A special thanks to Lauren of
Bloggerific Tales
for acting as party photographer and for contributing many of the photos seen above)