Bright, poppy colors and graphic prints make me happy all year long, and especially when I see them inside a recently opened Christmas package! Maybe some of these fun little items will inspire you as you finish your last-minute holiday shopping...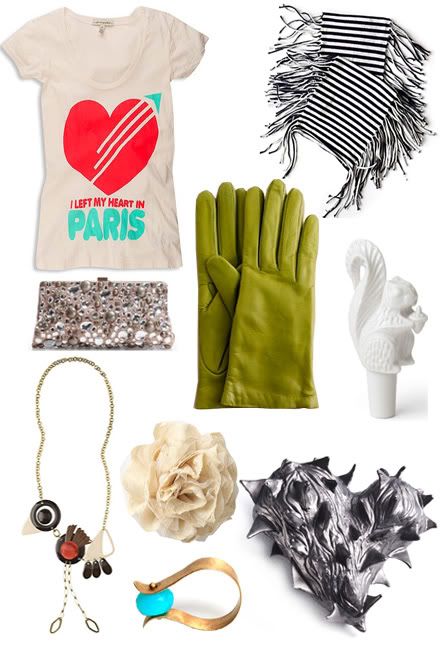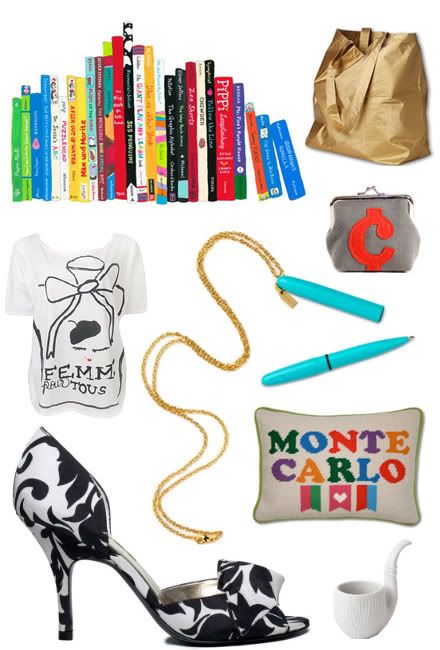 (Clockwise from top left: Forever 21
"Paris" t-shirt
, $14.90; Elizabeth Gillett
fringe scarf
, $88; J. Crew cashmere-lined
leather gloves
, $88; Jonathan Adler
squirrel bottle stopper
, $18;
Swallow
thorny heart objet, $90 at
Petulia's Folly;
Vere gold tyvek shopping bag, $20 at
Petulia's Folly
; Curiosity Shoppe
kisslock coin purse
, $28;
Kate Spade
pen pendant, $35 (sold out online, call a
store
to order); Jonathan Adler
"Monte Carlo" pillow
, $98; Jonathan Adler
this is not a pipe tea light
, $28; AK Anne Klein
floral-print d'orsay pump
, $79; Forever 21
"Femme pour tous" t-shirt
, $17.90; "
Ideal Bookshelf 5
" 8x10 print by Jane Mount, $20; Iwona Ludyga
serpent ring
with labradorite, $320 at
Petulia's Folly
; Anthropologie
full bouquet clip
, $18; handmade
hasty hatchling necklace
, $298; J. Crew
stone garden clutch
, $148)