This is what I'd like to be doing for the next two days. Relaxing on a beautiful bed, in a beautiful bedroom, without a care in the world. This is what I'll actually be doing...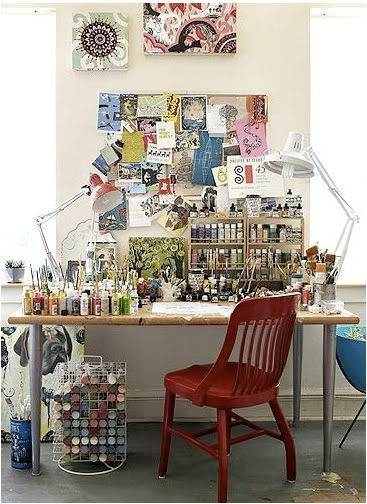 ... crafting like crazy, but in a much less organized and inspiring space than the one shown here. Ah, the wedding is approaching like a barreling train and there is nothing slowing it down. I can't wait for it to get here, but there simply is not enough time to get everything done. Oh well, what gets done gets done, and what doesn't... doesn't really matter, right?
Anyway, it's good to be back to blogging! I've been away for a while, but decided to hit you with a lot of content before the long weekend. I promise to keep it up going forward, so hopefully no more (or at least fewer) long stretches of away time from me.
I hope you all have a great weekend and that you enjoy some sun and fun. When I'm not making things or desperately shopping for last-minute things, I will be helping my lovely friend (and maid-of-honor) Ingrid with her going-away sidewalk sale. I'm so sad to see her and her family leave Philly, but can't wait to continue our friendship as she lives out there in sunny L.A. I have a feeling there will be many visits out to the west coast in my future... yay!
Have a great one, everyone!
(Images via Lonny Magazine and Trevor Dixon)