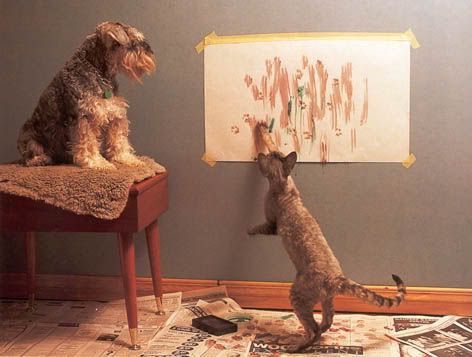 I often get questions about the how-to's of using paint to spruce up furniture and objects. As spring is here and all of us are seem to be eager to freshen up our houses, I thought I would share some tips and pointers for (relatively) fool-proof painting...
1. It's all about the finish. Spray paint (as well as the regular brush kind) works like a champ on metal, resin, plastic and unfinished wood
without
sanding and priming. Just make sure the surface is free of dirt and dust, then spray away!
2. Watch out for highly varnished wood and metal. Super shiny finishes don't take paint as well, and usually require the advanced prep work of sanding and priming.
3. Spray paint works best on items with lots of nooks and crannies (such as a chair frame or a
dog sculpture
) or ones that require a super-smooth service (like metals). But break out the pail and brush for larger objects or ones that have wide flat surfaces (like a flower planter).
4. Acrylics work fine for most standard household projects. I love high-gloss acrylics for covering objects and furniture, but sometimes a matte surface is called for, like on this
light fixture
.
5. You can paint your stuff in the house if you are using a brush. Just make sure to put down newspapers or a drop cloth. (See how neat and tidy the kitty is above!)
6. Spray painting, on the other hand, requires a well-ventilated space where you can get a little messy. In other words, DO YOUR SPRAY-PAINTING OUTSIDE! Spray paint can blow around and leave teeny-tiny droplets all over the place. You may not even notice until after you pull your newspapers up and realize the floor or counter surrounding it has changed color.
7. Another idea for mess-free spraying is to use a folded piece of cardboard to create a shield. Use the shield behind the item you are painting to contain the droplets!
8. If you are using a brush, make sure you have the right tools to make it perfect. I usually have a couple brushes in different sizes for getting large spots and small. Sometimes a sponge brush (it's basically a sponge on a stick) is good for pushing into spots your bristles won't reach. And don't forget the painter's tape for getting clean lines and protecting hardware!
9. Use a light hand, and keep it moving, when you use spray paint. You want to apply thin, even layers. You may have to go over the entire piece 5-6 times to get it perfectly covered, but don't worry, you only have to wait a minute or two between layers.
10. Finally, make sure your item is completely dry before moving. You don't want to mess up your handiwork by being impatient!
Bonus Tip:
Please be thoughtful and extremely careful when painting something that is expensive or personally valuable to you. You can be more cavalier when spraying a resin pineapple bookend from the thrift store, less so when you are refurbishing your grandmother's dining room table.